Last week we reviewed the "Oakland County Real Estate Market Update for August 2018." This week we turn our attention towards the Macomb County Real Estate Market for August 2018.
We'll start the discussion with a year-over-year comparison of Homes for Sale from 3 years ago in August to the current year. You will notice from the graph below that inventory is significantly down from the previous 2 years in Macomb County. We went from an inventory of 3,385 homes for sale in 2016 to a decrease of -15.8 percent in 2017 of 2,851 homes for sale. We then further decreased another -16.7 percent in 2018 to only 2,375 homes for sale on the market in Macomb County for August.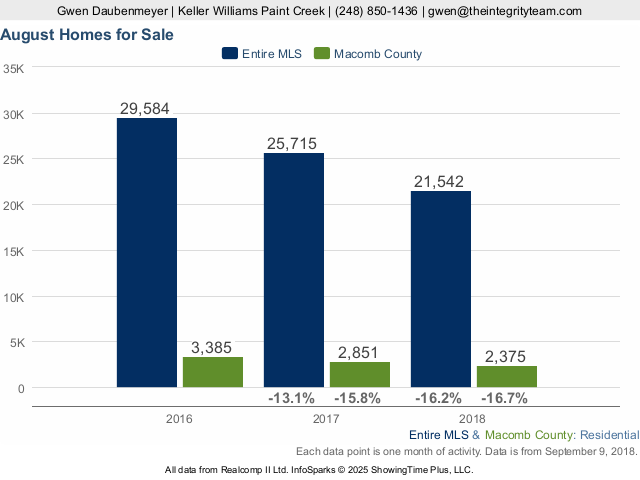 Next, let's take a look at the new listings on the market in August. We'll start in 2016, with 1,655 new listings to the market and then in 2017, there were 1,720 new listings. Finally, in August of 2018, there were 1,784. That was a slight increase of +3.7 percent from the year previous, 2017. In 2017, the inventory again, slightly increased by +3.9 percent from 2016.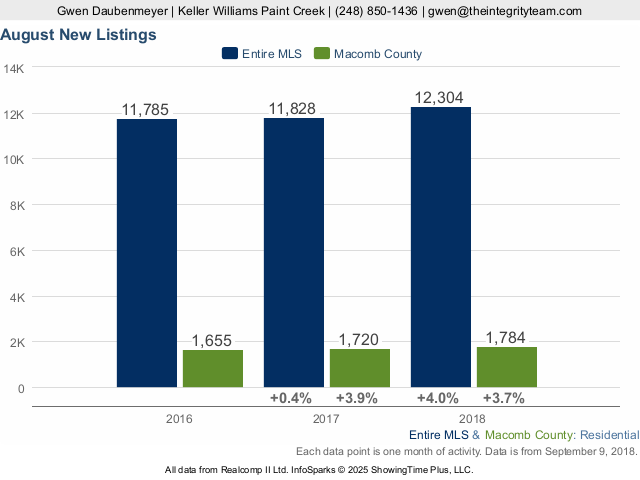 Now we turn to the average days on market starting at 31 days on market in 2016 and dropping -22.6 percent in 2017 to 24 days. In 2018, we saw an actual increase of +8.3 percent to an average of 26 days on market in Macomb County for August. Still less than in 2016.
Finally, we look at the Months Supply of Homes for Sale in August. In 2016, it was 3.4 months and in 2017. that dropped to -11.8 percent to 3.0 months. In 2018, we further dropped by -13.3 percent to 2.6 months!! What does this mean!?! According to findwell.com, "Months of supply is the measure of how many months it would take for the current inventory of homes on the market to sell, given the current pace of home sales. . . Months of supply is a good indicator of whether a particular real estate market is favoring buyers or sellers. Typically, a market that favors sellers has less than 6 months of supply, while more than 6 months of supply indicates an excess of homes for sale that favors buyers."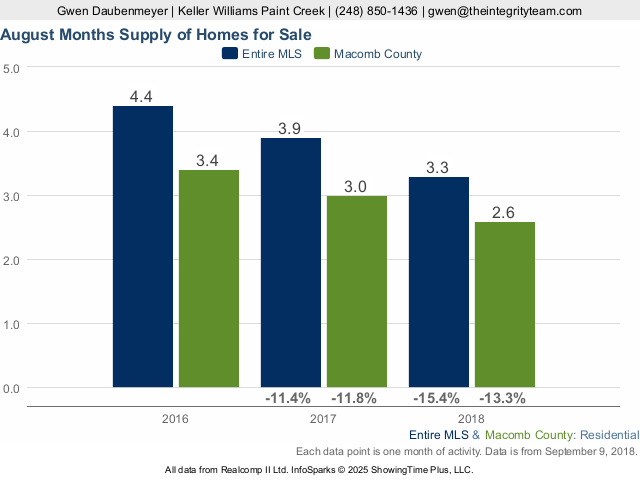 Let's sum this up.
The number of homes for sale in August 2018 was 2,375 👇-16.7 percent.
The number of new listings in August 2018 was down to 1,784 👆 +3.7 percent.
The average days on market in August 2018 was 26 👆+8.3 percent.
The months supply of homes in August 2018 was 2.6 👇 -13.3 percent.
If you have questions, don't hesitate to reach out! And welcome to The Integrity Team 🙂 You belong here.
[signature]