Wow! We are now moving into the new year!! Goodbye 2018 and hello 2019! Let's start this year off with a look at the Oakland County real estate market for January 2019.
We'll begin by reviewing the year-over-year comparison of Homes for Sale from 3 years ago in January. You will notice from the graph below that inventory was down from the previous 2 years in Oakland County. We went from an inventory of 4,075 homes for sale in 2017 to a decrease of -14.1 percent of 3,502 homes for sale in 2018. We then further decreased another -6.5 percent in 2019, to 3,274 homes for sale on the market in Oakland County for January.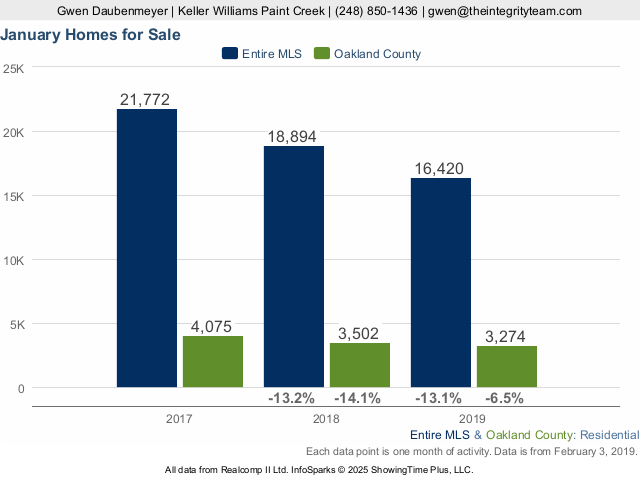 Next, we'll look at the New Listings on the market in January 2019. We'll start with 2017, where we find 1,676 new listings to the market and in 2018, there were 1,467 new listings. Finally, in January of 2019, that number actually increased to 1,706 new listings. We decreased a bit between 2017 to 2018, by -12.5 percent and actually increased by +16.3 percent from 2018 to 2019.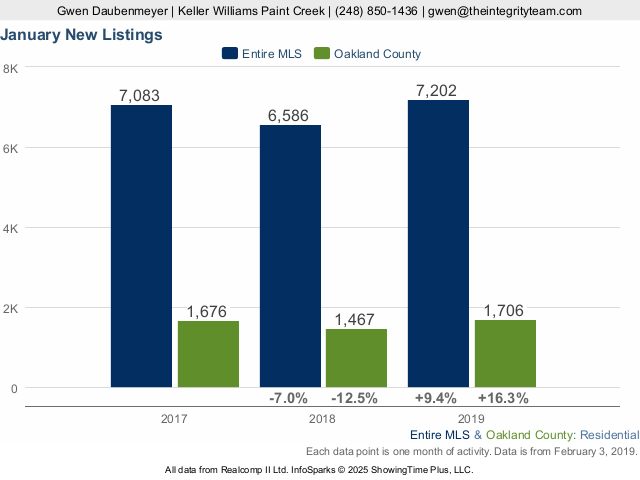 Now we turn to the average days on market starting with 48 days in 2017, dropping by -16.7 percent in 2018, to 40 days. In 2019, we saw a slight increase of +7.5 percent to an average of 43 days on market in Oakland County for January.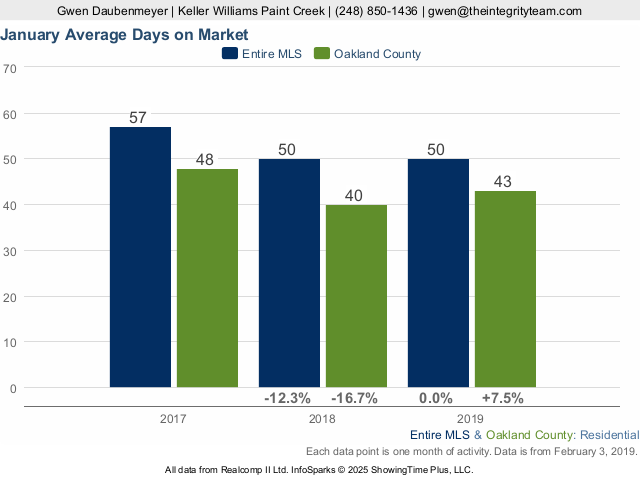 Finally, we look at January's Months Supply of Homes for Sale. In 2017, it was 2.8 months and in 2018, that dropped -14.3 percent to 2.4 months. In 2019, we held even at 2.4 months. What does this mean? According to findwell.com, "Months of supply is the measure of how many months it would take for the current inventory of homes on the market to sell, given the current pace of home sales. . . Months of supply is a good indicator of whether a particular real estate market is favoring buyers or sellers. Typically, a market that favors sellers has less than 6 months of supply, while more than 6 months of supply indicates an excess of homes for sale that favors buyers."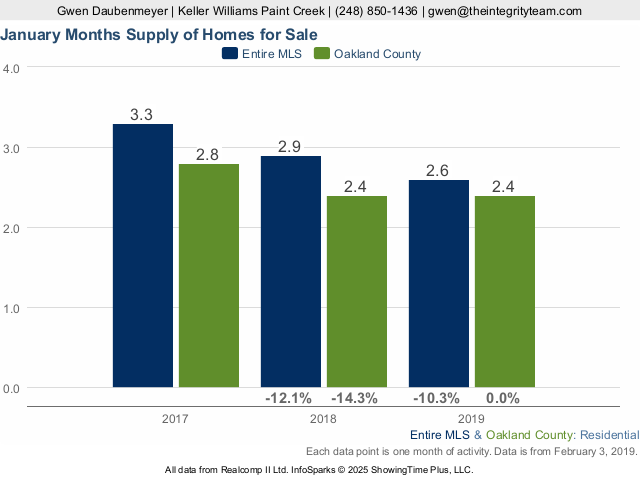 Let's sum this up.
The number of homes for sale in January 0f 2019 was 3,274  -6.5 percent from the previous year.
The number of new listings in January 2019 was 1,706  +16.3 percent from the previous year.
The average days on market in January 2019 was 43 days  +7.5% from the previous year.
The months supply of homes in January 2019 was 2.4 months  0 change from the previous year.
Again, if you'd like to compare these statistics to November 2018 then please see our blog "Oakland County Real Estate Market Update for December 2018."
And welcome to The Integrity Team 
 You belong here.
[signature]