The end of 1 month and the beginning of the next leads us to it being time for the Oakland County Real Estate Market Update discussion. We'll start with the year-over-year comparison of Homes for Sale from 3 years ago in March to the current year of March. You will notice from the graph below that inventory is down from the previous 2 years in Oakland County. That means if you're on the fence about selling you should contact us to see what your options are. Less inventory means less competition. Take a look at our "Homes We Love" page to see how many listing of ours are already pending.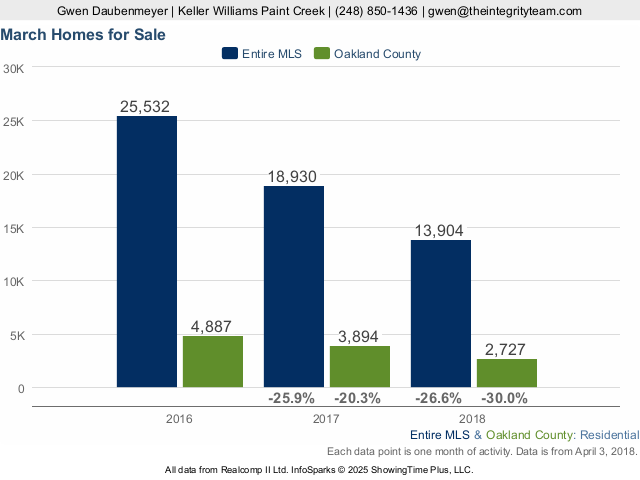 Next, we'll look at the year over year New Listings in March as a comparison. Again, you'll see a substantial decrease in listings from 2016, 2017 to 2018. Substantial!! What does this mean? Well, there's a lot going on here and I'll discuss what it means for buyers after the next graph.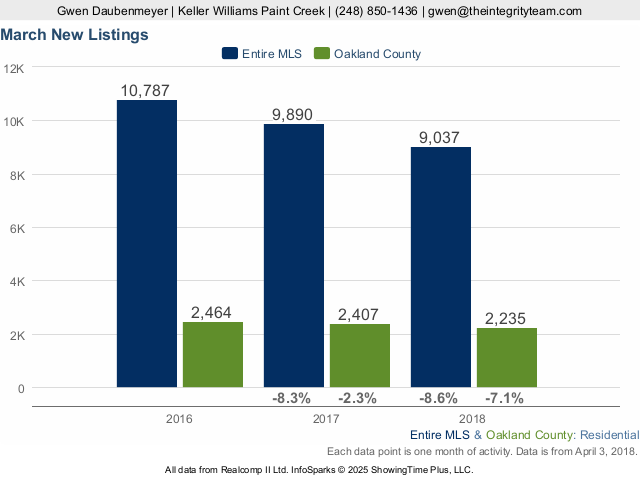 The last graph we are going to review is DOM (Days on Market) and that again, will be 3 years of year over year comparisons for March. I believe going back 3 years gives us a really good overview of the current situation and in turn helps us look at where things are heading.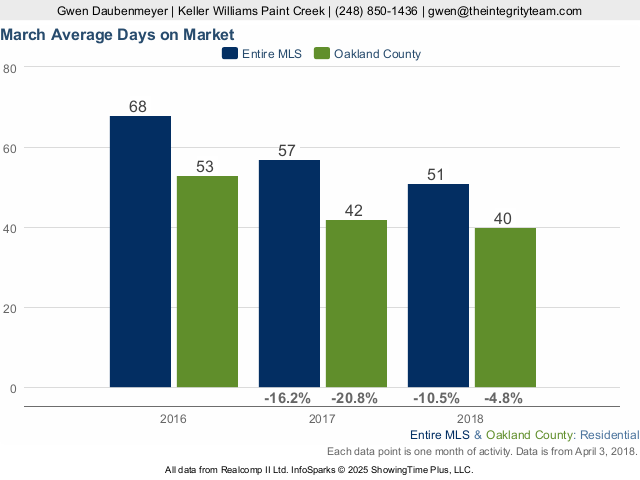 I am sure you see the numbers which speak for themselves.  The inventory in Oakland County is definitely reflective of the rest of the country. Inventory is down all over our nation. For a buyer, that means you'd better be serious when you are out looking for that home because making an offer immediately will be key to finding your next home. Make sure you are pre-approved and ready to pounce!
We have market statistics on everything right down to your city and neighborhood. If you have a question regarding how the market is affecting your neighborhood, call us for specifics; it's what we do!
Welcome to The Integrity Team 🙂 You belong here.
[signature]