This week it is time to zero in on Rochester, Michigan.  I thought it would be great to see what is happening in this specific market. So let's take a look at the Rochester Real Estate Market for August.
We'll start with the Homes for Sale in August in Rochester, Michigan. In 2016, there were 64 homes for sale in August and that number dropped by -14.1 percent in 2017 to having only 55 homes for sale. In 2018, we saw a further drop of –10.9 percent with only 49 homes on the market.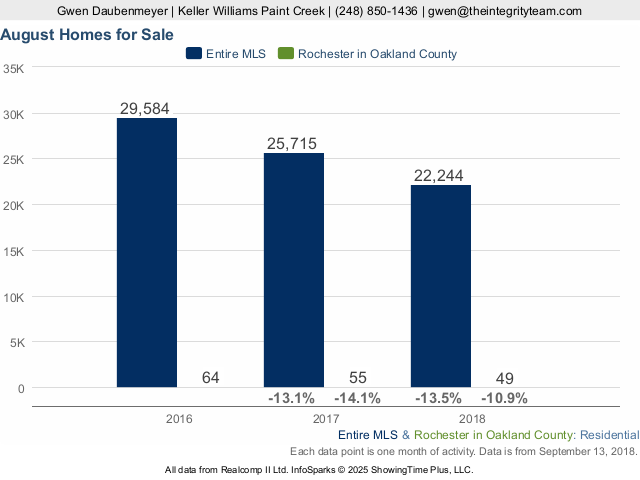 Next, we'll look at the year over year averages of days on market. We'll start with the averages days on market for August in 2016, that number was 41 and then it actually increased by +39.0 percent to 57 average days on market in 2017! A pretty dramatic increase, right! In 2018, however, the average days on market decreased by -43.9 percent to 32 days on market. Significantly lower than in 2016 as well!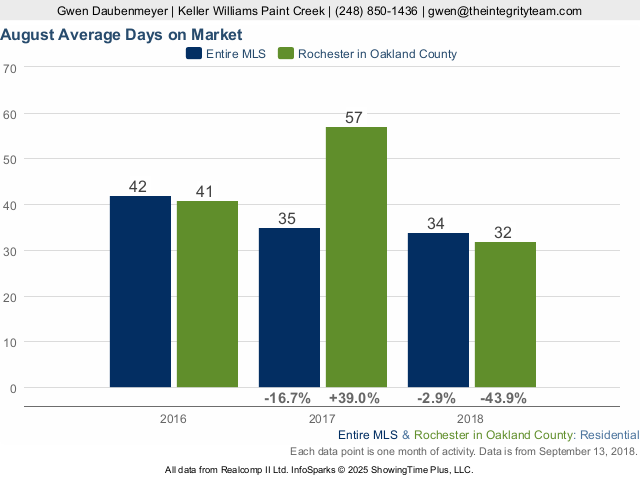 The next graph I like to explain as it isn't always understandable to the average person looking at these statistics. We are going to look at the Supply of Homes for Sale. The Supply of Homes for Sale is the measure of how many months it would take for the current inventory of homes on the market to sell, given the current pace of home sales. For example, if there are 50 homes on the market and 10 homes selling each month, there is a 5 month supply of homes for sale. (definition supplied by Findwell.com)
If you look at the current graph below you will see that back in 2016 the Months Supply of Homes for Sale in Rochester was 5.6 months and in 2017, it decreased to 4.5 months which was a -19.6 percent drop. In 2018, the Months Supply of Homes for Sale slightly decreased again to 4.3 months which was a -4.4 percent decrease.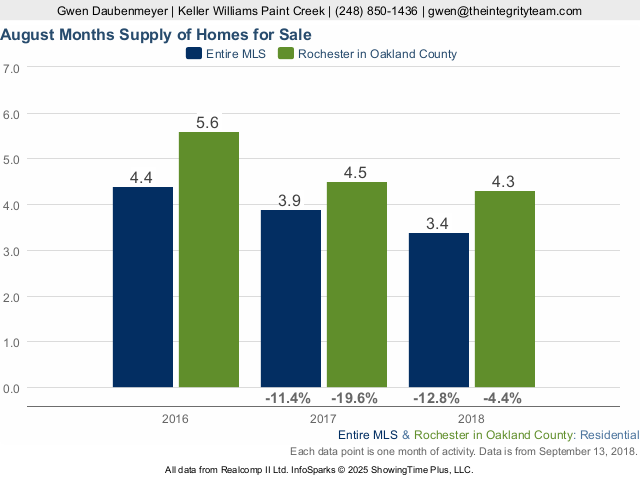 So the market in Rochester is definitely changing as we progress through the end of Summer into the Fall months. If you'd like to compare these stats with July's then click over to Rochester Real Estate Market for July
Contact me if you'd like to discuss more regarding this subject and take a look around our website. You belong here.
[signature]