Last week we took "A Look At Rochester Michigan's May Real Estate Market" and this week we are turning our attention to Troy Michigan's May Real Estate Market. Both of these areas are where we do a lot of real estate work. Here's where you can find more detailed information regarding the Troy community. 
Let's start this week by looking at the homes for sale in May with a comparison of year over year starting in 2016. You'll note that in May of 2016 Troy had 291 homes for sale followed by 198 homes in 2017 and down to 189 homes in 2018. That is a -4.5 percent drop in inventory of homes from 2017.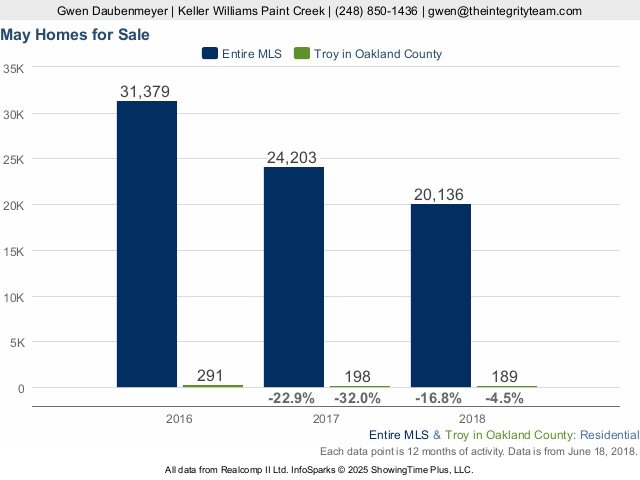 The average days on market are next. In 2016 the average days on market in May for Troy were 42 days and in 2017 it went down to 31 days on market. When we look at 2018 we see the average days on market remained the same as the year previous. So shorter time from 2 years previous, but the same from 1 year previous.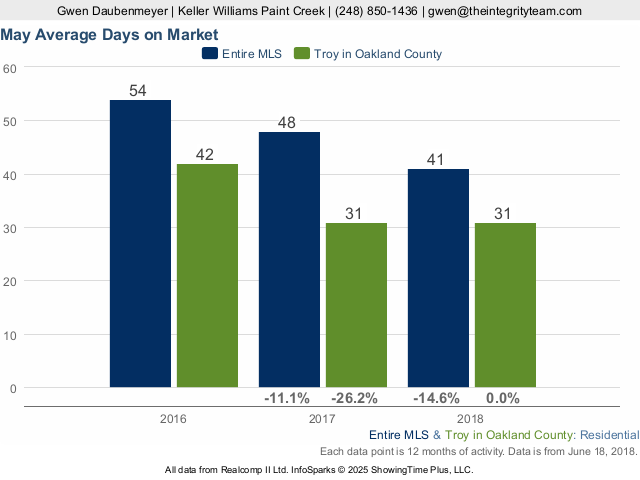 Next, we look at the graph which reflects the Months Supply of Homes for Sale. I pretty much always assume the definition of this term needs to be clarified each time I mention it because not everyone understands what Months Supply of Homes for Sale means. Here's a pretty good definition. "The Supply of Homes for Sale is the measure of how many months it would take for the current inventory of homes on the market to sell, given the current pace of home sales. For example, if there are 50 homes on the market and 10 homes selling each month, there is a 5 month supply of homes for sale."(definition supplied by Findwell.com) If you have questions about the meaning or anything else, please contact me. I'd be happy to explain in detail.
If you look at the current graph below you will see that back in May 2016 the Months Supply of Homes for Sale in Troy was 3.7 months and in 2017 it decreased to 2.6 months which was a -29.7 percent drop. In 2018, however, the Months Supply of Homes for Sale decreased to 2.4 months which was a -7.7 percent drop.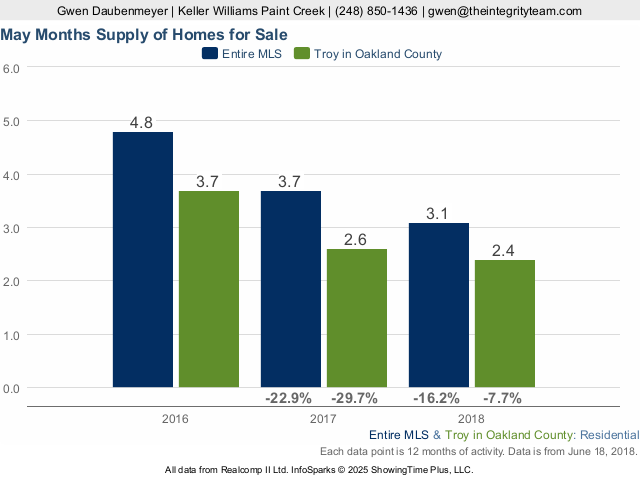 So just like in Rochester, Michigan, the Troy, Michigan market is clearly favoring the sellers right now. This means if you are a buyer hoping to get into a home then you need someone who is a good advocate and will negotiate on your behalf. The Integrity Team will be that advocate. I will be that advocate.
Another reason to have us in your corner is due to stories like this, "A Seller's Market Is Not Permission To Bully."
This kind of market can bring out the worst or the best in people. Let me make sure that you have the best experience possible. Take a look at our reviews from people who have worked with my team. To me, that's one of the best signs that we're doing our job right.
[signature]